Fire & Intrusion
CIAS
CIAS
CIAS is a manufacturer of perimeter protection solutions, such as microwave digital barriers, transceivers and 3D MEMS fence sensor systems.
Commend
COMMEND INTERCOM SERVER
Commend's Intercom solution based on Intercom Server Software provides a full range of hard- and software servers which connect analog, digital and VoIP based Intercom Stations. Standardized interfaces enable seamless integration of third party systems such as video and access control, PBX and VoIP systems, graphical user interfaces and many more. By use of eHD audio technology, Commend systems provide perfect speech intelligibility in all situations and even noisy and loud environments.
Fiber SenSys
FIBER SENSYS FIBER DEFENDER
Fiber SenSys is the world's leader in fiber-optic intrusion detection systems. The Fiber Defender Processing Units (APUs) is a fiber-optic intrusion-detection platform designed to detect intruder attempts to cross a perimeter. More than 12,000 Fiber SenSys Fiber Defender® Alarm Processing Units have been installed along with over 4,000,000 meters of fiber-optic sensing cable at the most critical sites around the globe.
Future Fibre Technologies
FUTURE FIBRE TECHNOLOGIES CENTRAL ALARM MONITORING SYSTEM
Central Alarm Monitoring system for fiber optic intrusion detection system for the securing and protection of perimeters, critical infrastructure, high value assets and communication links.
Jacques Technologies
JACQUES TECHNOLOGIES IP COMMUNICATION SYSTEM 650 SERIES
The Jacques 650-series VOIP Voice Communication System uses Internet Protocol (IP) packets for all control and audio communications between intercom devices. Audio for intercom calls or public address announcements is streamed in digital form using the standard Real-time Transport Protocol (RTP). Control communication for creating and terminating calls uses Jacques Call Control Protocol (JCCP) which is specifically designed for intercom and public address (PA) systems.
Motion Control Engineering (MCE)
MCE SENTRY
MCE Sentry Proxy enables 3rd party security companies to interface with MCE's iCue elevator dispatcher in order to support Destination Based Dispatching with access control integration. 
Senstar 
SENSTAR NETWORK MANAGER SERVICE
Senstars Network Manager Service is the software gateway which allows communication with a wide array of Senstar sensors including the OmniTrax buried cable sensor, FlexPS fence sensor, FlexZone fence sensor, ltraWave microwave, XField electrostatic sensor, and FiberPatrol. The integration with OnGuard provides two-way communications OnGuard not only can receive alarm and status information from Senstar sensors but can also control associated relay contacts and internal control points such as self-test controls within the sensors. Using the alarm information received from the Network Manager Service the full range of OnGuard system security responses can be initiated including commanding camera actions and providing visual and audio alerts.
ThyssenKrupp
THYSSENKRUPP ELEVATOR SYSTEM
ThyssenKrupp Elevator supplies elevators for buildings of all kinds. ThyssenKrupp Elevator range includes passenger, bed and freight elevators with traction or hydraulic drive. ThyssenKrupp Elevator capabilities are rounded out by high-quality, customer-oriented service as well as individual maintenance and modernization packages. 
VINGTOR-STENTOFON by Zenitel Group
The VINGTOR-STENTOFON AlphaCom XE is an intercom exchange offering advanced communication and control capabilities. It provides the voice of security.
ZENITEL IC-EDGE™
ZENITEL IC-EDGE™
Zenitel's new intelligent communications platform, IC-EDGE™, provides OnGuard® users with a simple and powerful way to incorporate voice communications into their unified security strategy.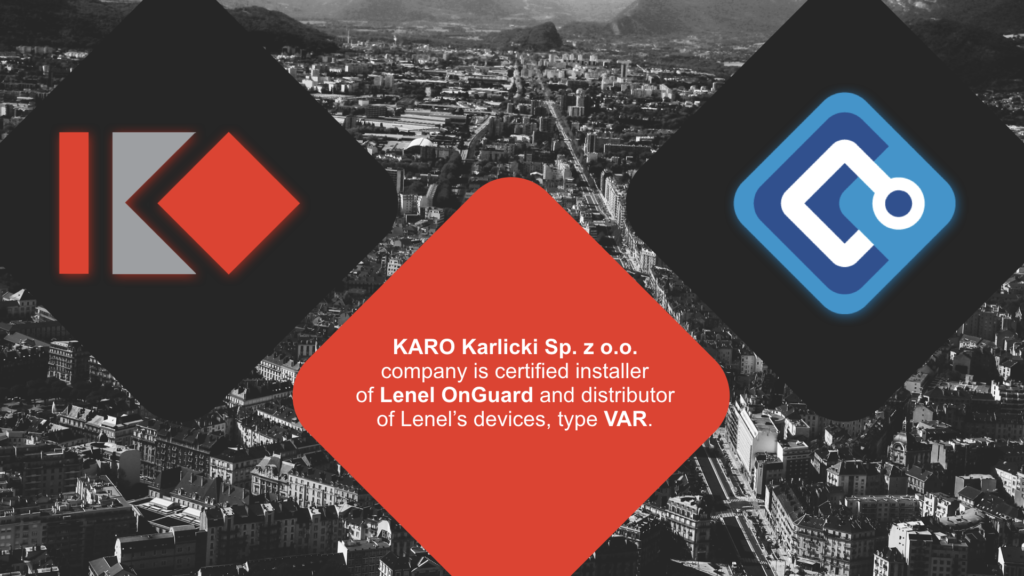 KARO Karlicki Sp. z o.o. company offers its assistance at every stage of the implementation of Fire & Intrusion or any Lenel System, starting from the initial analysis of the situation, through the creation of concepts, the design stage, the equipment completion, installation and commissioning, as well as maintenance service. We make cost estimates for the needs of budget calculations.
We also undertake the maintenance of existing systems.
Our employees are well trained, they have proper knowledge, experience and required permissions.
We invite you to cooperation.