Magic Monitor
 f

or the OnGuard and S2 NetBox systems
Unified view of internal and external security environment provides actionable insights.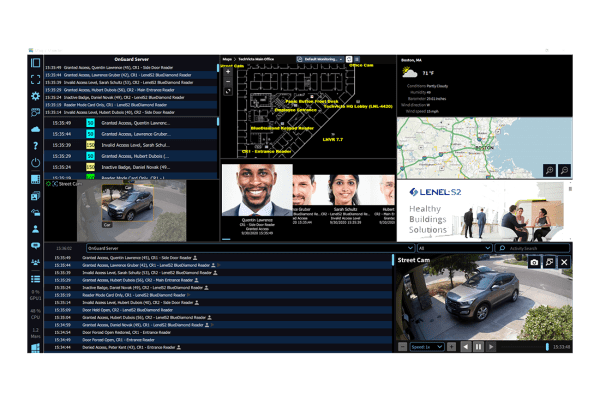 The LenelS2TM Magic Monitor® unified security client provides enhanced situational awareness to OnGuard® system operators by bringing together access control, video surveillance and external web content. The Magic Monitor client allows display and manipulation of OnGuard alarms, video and cardholder data, badges and access rights. 
Magic Monitor client can be used on Microsoft Windows® and MacOS® devices and provides a customizable interface. Users can view live or recorded video from the LenelS2 Network Video Recorder (LenelS2 NVR) platform and from several third-party video management systems (VMS), including Milestone XProtect®. This unified client supports a variety of display formats including a single display, multiple monitors or expansive video walls. 
Compatible with the OnGuard system, version 7.5 and up, Magic Monitor client offers its richest feature set when paired with OnGuard version 8.0. Magic Monitor client includes interactive display and operation of the OnGuard Maps feature as well as automatic provisioning of Milestone XProtect cameras configured within the OnGuard platform. 
In addition to providing a novel way to visualize your OnGuard access control system, the Magic Monitor client allows the display of external systems with browser interfaces, enabling expanded awareness of additional business systems. 
The Magic Monitor client provides a highly visual and configurable OnGuard system client experience, ideal for security operations centers, reception or security desks or anywhere an OnGuard system user needs the most flexible view of their security environment.
Features & Functionality
Provides powerful, real-time monitoring of access control, video and external content in a single unified client

 

Supports a variety of video management systems, including LenelS2 NVR, LenelS2 VR platform, LenelS2 VRx video platform, as well as Milestone XProtect, Exacq and Avigilon systems

 

Displays OnGuard system events, including associated OnGuard cardholder and video links to LenelS2 NVR and Milestone video platform

 

Displays interactive OnGuard Maps feature for quick access to video camera feeds

 

Allows viewing and editing of OnGuard cardholders, badge records and access level assignments

 

Enables live view of cardholder/door activity with photos

 

Offers customizable views including cameras, camera tours, floorplans, activity logs, text and media

 

Offers the addition of weather, traffic, data, news and more to client layout

 

Enables custom, simultaneous views of security systems and the external environment via widgets that include third-party external systems and publicly accessible websites

 

Respects OnGuard system monitor zones, permissions, and segmentation

 

Provides simultaneous support for OnGuard and NetBoxTM access control systems

 

Includes ability to switch between views with a single keystroke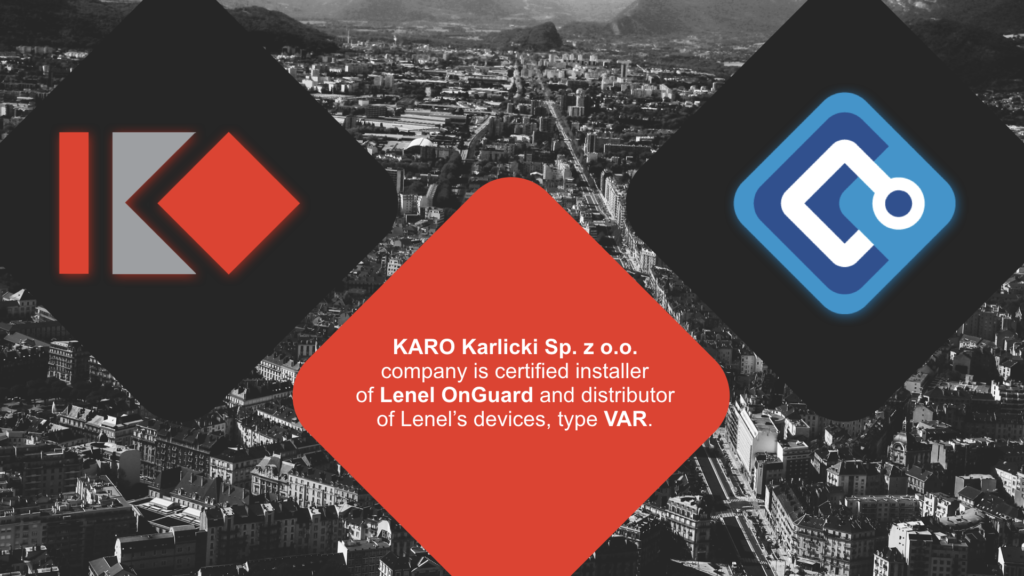 KARO Karlicki Sp. z o.o. company offers its assistance at every stage of the implementation of Magic Monitor or any Lenel System, starting from the initial analysis of the situation, through the creation of concepts, the design stage, the equipment completion, installation and commissioning, as well as maintenance service. We make cost estimates for the needs of budget calculations.
We also undertake the maintenance of existing systems.
Our employees are well trained, they have proper knowledge, experience and required permissions.
We invite you to cooperation.