OnGuard Video Manager
Overview

OnGuard VideoManager is the most flexible and dynamic video system available today. With enormous 3,000+ channel installations operating around the world, OnGuard VideoManager offers customers the scalability to take small and simple video needs to large and sophisticated enterprise video. OnGuard VideoManager is seamlessly integrated with OnGuard, offering customers the many benefits of applications inside the OnGuard portfolio, including OnGuard Access and OnGuard Fire & Intrusion. By integrating with OnGuard, customers can realize a true, event-driven system architecture whereby actionable security is enabled by linking real, live security-related events. Event video can be monitored in several ways. For those organizations with sophisticated monitoring needs, OnGuard IntelligentVideo offers an array of algorithms and packaged solutions for everyday security challenges such as loitering, objects entering an area or object leaving an area. For those customers who want to use OnGuard IntelligentVideo in forensic investigative mode, there is no additional charge. All angles are covered with OnGuard VideoManager.

Support

Multiple Frame Rates:

Compression:

 MPEG-4;

 MJPEG; 

H.264;

Recording Options:

Extended Storage Options:

Direct-Attached Storage (DAS)

Network Attached Storage (NAS)

Storage Area Network (SAN)

Monitoring Options:

Integrated monitoring

VideoViewer/Web-based VideoViewer

Remote monitor

Barco display integration

Joystick Control

Analog Video Output

Virtual Matrix

Camera Brand Support: 

Axis, Lenel, Panasonic, Sony, JVC, IQInvision, Lumeneva, Arecont Vision, Baxall, Toshiba

Lenel NVR supported under VMware ESXi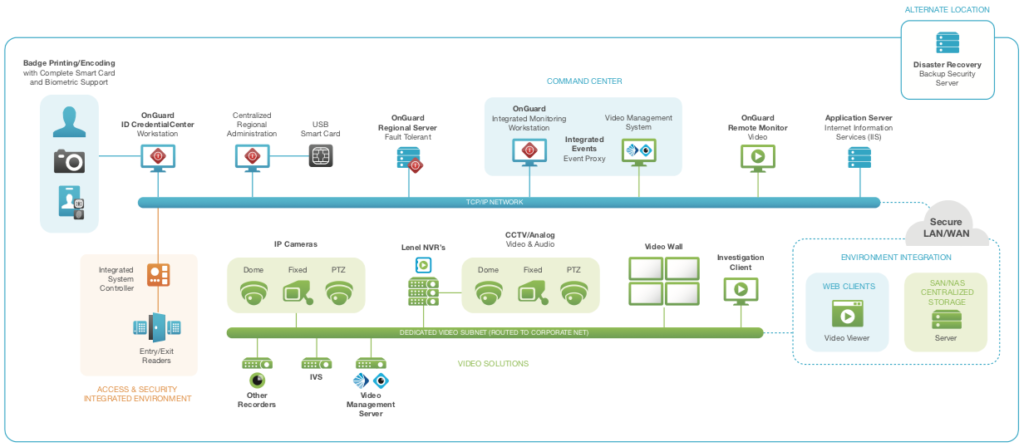 Event-Driven Solution
For every aspect of a video system, alarm event conditions drive the solution. PTZ on event. Auto-launch on event. Record on event. Monitor events. Investigate events. Archive event video. OnGuard VideoManager is the event-driven solution.
Monitoring
OnGuard leads the industry with the most robust monitoring application available. OnGuard Alarm Monitoring communicates the status of video recorders and network cameras, illustrates alarm location with the use of multimedia graphical maps, and enables operators with in-view PTZ control, auto-launch of video on alarm and individual camera touring and layout touring.. OnGuard also offers users a variety of monitoring interfaces, from the Remote Monitor to the Barco video wall. No matter what the monitoring requirement is, OnGuard has an interface to match.
Management
OnGuard VideoManager offers customers a simple system management experience. OnGuard System Administration allows the customer to set up new video inputs, configure OnGuard IntelligentVideo, deploy an archiving strategy, adjust video
tours, scale user permissions, and much more. For customers already using OnGuard, expanding with OnGuard VideoManager is simple and smooth. This enables users to perform video management on a low learning curve.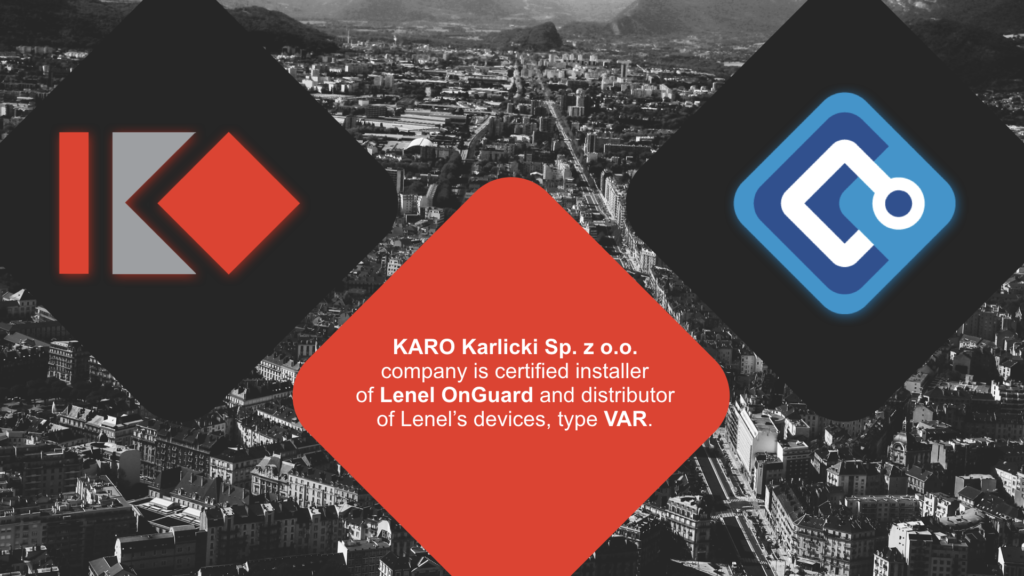 KARO Karlicki Sp. z o.o. company offers its assistance at every stage of the implementation of OnGuard Video Manager or any Lenel System, starting from the initial analysis of the situation, through the creation of concepts, the design stage, the equipment completion, installation and commissioning, as well as maintenance service. We make cost estimates for the needs of budget calculations.
We also undertake the maintenance of existing systems.
Our employees are well trained, they have proper knowledge, experience and required permissions.
We invite you to cooperation.