| | For viruses and infectious diseases, rapid action is key to fight the threat. Many of them can be quickly detected by measuring body temperature. However, individual thermometer measurement is inefficient and paralyzes its flow in places with heavy traffic. What is more the person making the measurements himself is at risk of infection. The technology makes it possible to measure temperature on a large scale with minimal risk to persons operating the system. We present 2 options for this type of solution. |
| --- | --- |
Option 1 – Fever Screening System, SATIR
Option  2 – Thermal Imaging System for Human Fever Screening, OPTOTHERM
SATIR CK350-F
Thermal Imaging System for Fever Screening
The CK350-F is a fever screening system suitable to be used in areas where there are large groups of people such as airports, seaports and public places such as shopping centres. It is a fixed camera that has a powerful 384×288 IR detector which delivers 110,592 pixels to the end-user's screen. The thermal video/images have a temperature measurement range of 0°C ~ +60°C and measurement accuracy of ≤ 0.3 ℃ which makes this ideal for fever screening programmes. It also comes with a range of temperature measurement tools which includes Motion detection, Disk alarm, I/O alarm, Temperature alarm and many more. The CK350-F allows non-invasive fever screening to take place meaning there is no major distruptions to the flow of people in an area.
The system consists of three elements: An IR camera combined to a video camera in one housing, an on-line temperature standard source (Black body) used to calibrate the camera, and computer software for information processing. The CK350-F system can detect up to 16 objects with elevated temperature per second. The image obtained from the cameras is recorded for later analysis. It is possible to expand the system with additional cameras.
The system allows real-time detection of people with elevated temperatures.
System Key Features
384×288  IR Detektor
Accuracy ≤ 0.3 ℃ (Emission rate, distance, ambient temperature, etc..)
Specially designed optical system for medical diagnosis
Powerful analysis tools
Operation software optimised for medical diagnosis & analysis
Supported languages: English, Chinese, Polish, Italian, Portuguese, Spanish. Russian, French, Czech, Hungarian
Optotherm Thermoscreen IS640
Thermal Imaging System for Human Fever Screening
Optotherm's fever screening technology provides the most accurate method of mass screening for elevated facial skin temperatures that may indicate a fever. Because it is both fast and noninvasive, Thermoscreen is the best way to safeguard areas with high pedestrian flow.
Thermoscreen was originally developed in response to the need to screen large numbers of individuals for potential fever during the SARS outbreak in 2003. Thermoscreen scans subjects without contact from a distance, providing a discreet and safe method of detecting potentially feverish individuals.
Over 1,000 individuals can be screened per hour so as not to restrict pedestrian flow. Thermoscreen is sold as a complete, fully tested system including a computer with preinstalled hardware and software.
ADVANTAGES
Highest Sensitivity and Specificity
The effectiveness of Thermoscreen has been studied and confirmed by the U.S. Center of Disease Control.
Lowest Rate of Missed Detections and False Positives
Thermoscreen's sophisticated measurement process involves precision calibration, face and movement detection, ambient temperature compensation, and subject group compensation. Together, these unique features provide unparalleled ability to reduce the number of missed detections and false violations. A low false violation rate allows Thermoscreen to be employed in applications where a high number of false positives are unable to be effectively processed.
Overview
A primary symptom of many infectious diseases is fever. This has lead to monitoring the temperature of pedestrians in hospitals, airports, corporate building companies, schools, and other public areas. Thermoscreen provides a non-invasive, non-contact method of screening large groups of people for elevated facial skin temperature quickly and easily. Potentially febrile individuals can be detected with minimal inconvenience and disruption to pedestrian flow.
Thermoscreen is best utilized as the first of a two-point fever detection process. At the entrance to crowded areas, Thermoscreen is used to detect individuals whose facial skin temperature is higher than normal. Fever is then confirmed using a medical thermometer. This two-point system enables large groups of people to be screened quickly and accurately to effectively prevent febrile individuals from entering areas where contagious diseases can spread easily.
System Hardware
Easy to setup and operate
< 0.04°C sensitivity; 0.3°C accuracy
Integrated visual camera
All-inclusive turnkey system
Mobile platform
No external calibration source required
Fever Screening Software
Simple user interface
Operator-free automated screening
Verbal commands and audible alarms
Ambient temperature compensation
Verifies subject is standing still
Verifies subject is facing camera
Violation image and movie display
Automatic data and image logging
Historical data display and graphing
Screening Site Example
A Thermoscreen system is placed at the entrance of a hospital to screen patients and visitors upon entering the building (see figure). When operating in Automated Screening Mode that requires each individual to stop briefly to be screened, a single Thermoscreen station can effectively screen up to 1,200 subjects per hour.
The Screening Process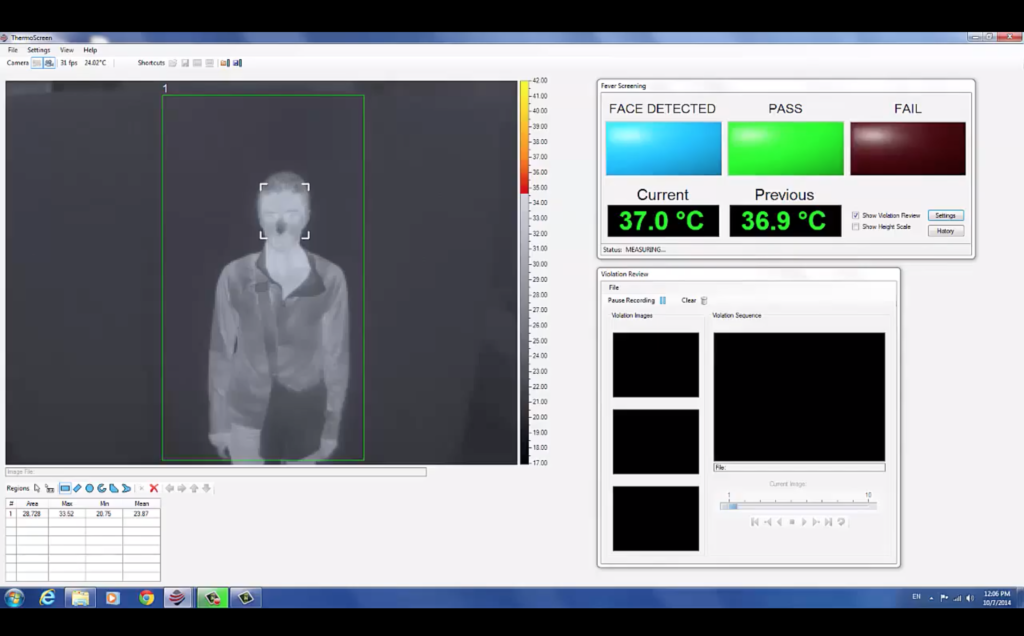 Each subject is screened individually. Subjects are notified to "remove eyeglasses" (contact lenses do not need to be removed) and to "stand still and look at the camera." Subjects can be notified verbally by the operator or by using signs positioned along the line.
The Thermoscreen System detects each subject's face as they enter the screening zone and issues a verbal command through the computer speakers to "please stand still and look directly at the camera." After verifying that the subject is standing still and facing the camera, the screening measurement is automatically conducted and the screening result is displayed. In the case of a fever threshold violation, the audible command to "please wait here for an attendant" is issued. If screening result = Pass, "thank you, you may proceed" is issued.
Operator 1 operates the Thermoscreen system, examines the Thermal and Visual Images of subjects, and confirms Fever threshold violations. Operator 2 directs subjects into and out of the screening zone and also directs subjects whose facial skin temperature exceeds the skin threshold to the nurse station for further evaluation. If subjects are queued in line properly, screening each subject requires approximately three seconds.
Note: When screening throughput is low, a single operator can perform the tasks of both operator 1 and 2.
Screening Area Setup
The screening area is climate controlled; the temperature varies from 20 to 24°C (68 to 75.2°F), and the relative humidity is approximately 70%. The screening area has diffuse ambient daylight and fluorescent lighting. The screening area is located far enough interior to minimize outside air striking the camera or screening alone that enters the building through the entrance doors.

KARO Karlicki Sp. z o.o. company offers its assistance at every stage of the implementation of Thermal Imaging System, starting from the initial analysis of the situation, through the creation of concepts, the design stage, the equipment completion, installation and commissioning, as well as maintenance service. We make cost estimates for the needs of budget calculations.
We invite you to cooperation.